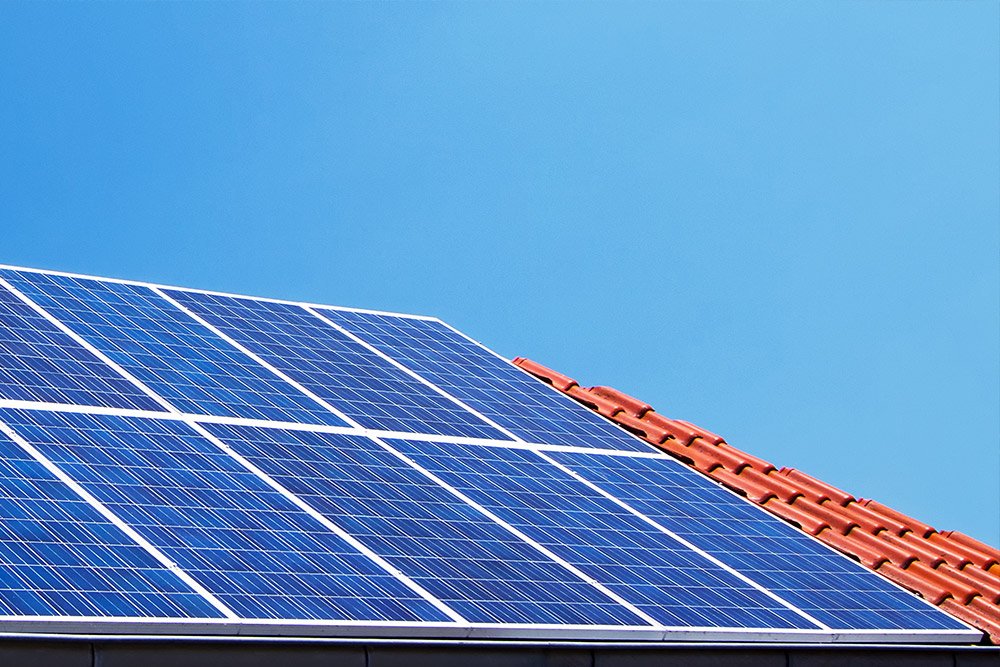 Your Path to Independence
Generating power with a photovoltaic system not only affords you independence from rising energy prices and scarce fossil fuels, but also helps to save money through private use as well as various incentive programs.
In order to be able generate and use electricity with photovoltaic rooftop systems, certain conditions must be fulfilled for optimal use. In addition to orienting the roof in the most southerly direction possible, the inclination of the roof is also of great importance. With special solar cables and a control unit, the power is then made available for private consumption or for feeding into the grid.
Flat Roof, Surface-Mounted or In-Roof: Photovoltaic Rooftop Systems for Every Need
The right roof system for your home depends entirely on the nature of your roof surface. With a pitched roof, solar rooftop systems are mounted on the roof by means of roof hooks, and with in-roof installation, the solar panels are installed directly into the roof for a more pleasing appearance. If your home is in a low-rise building, the solar installation is elevated, i.e., it is mounted on a special mounting frame to obtain the optimal angle of inclination with respect to the sun.
On the Scene
No matter what the roof type, all solar rooftop systems by Meister Solar are carefully designed, mounted and installed with expert know-how. Before the design phase begins, the Meister Solar experts always identify the conditional framework at the future location of the rooftop photovoltaic system. Based on these values, we then calculate the expected performance of your photovoltaic system and your annual power output.
Your First Port of Call for Photovoltaic Rooftop Systems
We at Meister Solar specialize in the installation of photovoltaic rooftop systems and are at the ready with our expertise, outstanding service and excellent price-performance ratio to answer all your questions.
Our photovoltaic rooftop systems pay off two-fold through private consumption and government incentives and can be mounted on almost any rooftop with a minimum of effort and at a low cost.