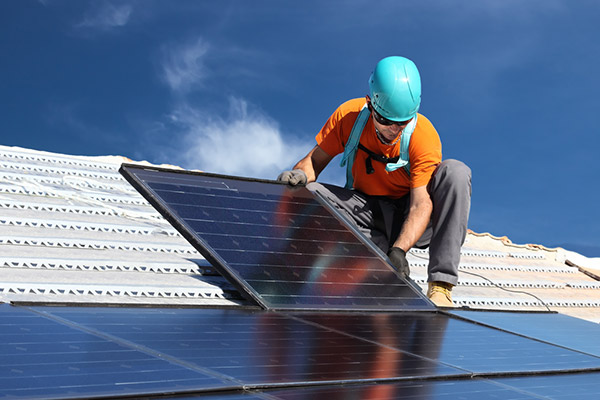 The Perfect Photovoltaic System for Each Roof
Before installation of the photovoltaic systems can begin, there are various options to consider for mounting the panels. The option chosen will depend on the type of roof. A photovoltaic system can either be surface-mounted or mounted in-roof. For flat roofs, the solar installations are elevated, i.e., the modules or panels are mounted on a special mounting frame to obtain the optimal angle of inclination with respect to the sun. Any power output which is not used for personal consumption is then fed into the grid by means of solar cables and control units.
Orientation of the Roof is Crucial
Certain conditions are required for the optimal use of photovoltaic systems. Particularly important are the orientation and slope of the roof surface on which the photovoltaic systems are installed. Specifically, a photovoltaic system with a southern orientation generates the highest solar energy yield.
Surface-Mounting vs. In-Roof Mounting
For mounting and installing a photovoltaic system on the pitched roof of an existing house, the photovoltaic modules are mounted on the roof by means of roof hooks. The in-roof installation method is particularly recommended when building a new house, because with this option, the collectors can be installed directly into the roof, ensuring a harmonious overall appearance.
Connection and Startup
After proper mounting, the installation of the photovoltaic system can begin. The modules and the master switch inside the house are connected with special solar cables and then joined with the inverter. Then, one of our competent Meister Solar electricians takes over the connection of the photovoltaic system to the public power grid on your premises. As a final step, our professionals test the functionality of your photovoltaic system and fill out the commissioning protocol. The installation of your photovoltaic system is now complete, and it can be put into operation.
Meister Solar – Your Specialist for Solar Technology
We are your first port of call for all aspects of photovoltaic system installation. We help you to use solar energy efficiently and profitably. Friendly, expert advice and an excellent price-performance ratio are hallmarks of our work.
Please feel free to contact us. We would be pleased to advise you!