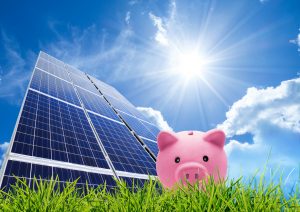 Investing in Green Energy – Unlike any other Investment; may it be a house or a car, Investing with Green energy is quite something that you need to think over and over again. No matter how good the intentions; saving the environment, save energy, renewable energy, trending, or whatever your reason to Invest on Green Energy you still need time and detailed studies about how Green Energy benefits you. Not only the benefits but how the system will work for you, is it practical and costs effective? How about the maintenance? The quality and credibility of the Company?.. It is very important to know what kind of Green Energy will be good for you to invest in. In the Philippines since we are a Tropical Country and the Sun is abundant the best Green Energy is the PV System or Solar Power System.
The Philippines is now starting to embrace the Solar Technology, more and more Solar Intergrators/Supplier are fighting in the Market; Made in China, US, European brand mainly Made in Germany. This is good for the consumers as they have a lot of options to choose from may it be for small budget or high quality materials.
Buying a Solar System is an Investment and guarantees you a Return of your money in a few years' time. Ideally your money is back after 5-6years if you invest in Solar Energy System and the System is guaranteed to work for you for 25-30years. But how can you actually get your money's worth and how can you protect your Investment?
Knowing and understanding the System is important before you decide to Invest into Solar Energy. So how does it work and how can you benefit from it? How can you get back your Investment?
So what is Solar Power System? When you think of Solar Energy, look for Company who specializes in On grid Systems, why? Not only this System is cost effective, it's no maintenance and reliable. On Grid Solar Systems are easy to understand as well as practical and guarantees you a return of your Investments unlike battery systems.
An On Grid Solar Systems has the following Solar Components;
Solar Panels        =             Solar Panels are installed in the roof facing South Side (Never North Side) for the optimum efficiency. They produces DC Energy from the sunrise to sunset.
Solar Inverter    =             Solar Inverter is the heart and the brain of the system, the DC Energy that is being produced by the Solar Panels will go to Inverter and he will be the one to converts it to AC Energy and distribute the converted Energy to the whole facility where the Energy is needed the most.
Mounting System            =             These are the Aluminum profiles and roof holders that holds the Solar Panels and keep them in place even during typhoon.
DC and AC Cable and Breakers   =             for connecting; from the solar panels to the inverters to the connecting point inside the facility.
So how does the System Work then?
Easy as 1, 2, 3…as shown on the house drawing below.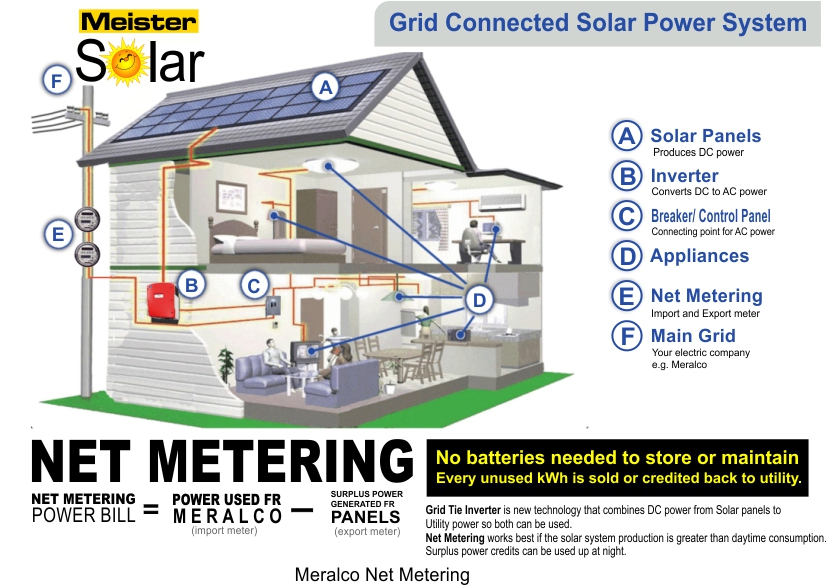 On Grid Solar System has an easy to understand concept; Solar Panels produces DC energy during day time goes direct to the inverter that converts DC Energy to AC Energy. The Inverter which is then connected to any nearest Breaker inside your house will distribute the AC Energy to all your current loads.
So how can you actually save money by using the Solar System?
The system was designed to be your first dispatch of energy during day time, meaning when you need Energy you will get/consumed first whatever your Solar System is producing before you get Energy from the Electric Company. If your Solar System is producing before you get Energy from the Electric Company. If your Solar production is enough your electric meter will not run and you will not charges from the Electric Company. The only time you will use your Electric Company is when your Solar production is not enough for your requirements and during night time since the Solar System only works during day time. No worries about switching as the system works full matic.
But here's another question? What will happen when nobody is insider the house and no one is using the Energy? Where will the Solar Energy production will go? Well this is something that we need to consider as well since this might affect your electric meter in a negative way. We need to be aware that all Electric Meters are regulated by ERC, they were programmed to read delivered energy only (Anti-Pilferage Law) unless these are the bi-directional meters approves for Net Metering, if not then you might see an increase of your electric bill because the over production will be added to your Electric Bill which is sad and scary.
Good news is, we have Net Metering Scheme, this is the baby of the "Renewable Act 2008" which is almost five years in the making. But it's all worth it, this Net Metering Scheme enable Solar Owners to sell their excess Solar Energy to the Grid which they earn credit that is deductible on their monthly electric bill. Although the process is long, kind 'a expensive and complicated to say the least but it's something to be thankful, the birth of net Metering in the Philippines is a sign of support and believe from our Government.
Why will you spend a lot of money for a battery Storage to store your excess Soalr Energy if you have the Grid to store the energy by giving back the excess thru Net Metering, you have a FREE STORAGE with no expensive and high maintenance batteries. Save your Solar Energy and have FREE electricity during night time. Click the following link for more information about NET METERING in the Philippines; https://cleantechnica.com/2015/09/13/net-metering-in-the-philippines-not-really-net-metering/ and https://www.doe.gov.ph/net-metering-home
Now that you fully understand how the system works for you next is how can you maximize the potential of the system? What is the best system that will for you? Keep in mind the importance and the size of the system and how fast you can get your money back? This is why most of the Industrial and Commercial Business are adamant in investing their money with Solar because it's very important role in the ROI (Return of Investment), almost all Industrial Operations since they have high consumption they pay not more than Php7.00 per kilowatt specially those who are inside the Eco Zone which they pay around Php5.00-Php6.00 per kilowatt, worst if the Facility is under RES then investing to Solar is not really appealing for them to say the least.
This is different though for residential home owners, the key here is knowing how much Energy you need during the day since Solar System only works during day time it is important to know how much you consume from sunrise to sunset. If your monthly consumption ranges from 1000kwh-1200kwh or Php10,000.00-12,000 monthly electric bill and out of this your day time consumption is 40% then a 3KWP Solar System is ideal for you, why? Because this system will give you a saving of Php4,000-Php5,000 on an average monthly on your electric bill and this guarantees an ROI of 5-6years which is very good since the System itself will work for you for 25-30years as long as you used the highest quality made Solar Components, this boils down on what is more important for you? Quality or Costs?
There are plenty of Solar Installers and Suppliers in the Market, mostly are Made in China which are cheaper and the highest quality brand Made in Germany. Although if your concern is more on the budget/costs definitely China Made are more appealing for you but if you will look closely and find time to look for a German Made Supplier you will be surprise that the costs are competitive and even flexible depending on your requirements. Let's say a China Made 3kwp Solar System will costs you around Php75,000.00 per kilowatt versus German Made 3kwp Solar System at Php79,000.00 per kilowatt, the difference is merely Php4,000.00 for the whole system. What is Php4,000.00 savings over having a Quality German Made Solar System that has long warranty and highest efficiency Solar Panels (PV Made in Germany) and Inverters (SMA Made in Germany). Let's face it, German Technology never compromises the Quality of their product and services, they are committed in providing only the best.
So how to choose a good Solar System Provided aside from the competitive price?;
It should have a good Company Project References and Excellent Company Profile.
Been in the Market for too long and have a stable Company Operations by checking their office showroom and warehouses if they have one.
Have in stock materials that this Company have the Expertise; their personnel are well trained and skilled.
Since Solar System is an Investment you should choose a Company with a very good After Sales Support, a 24hours Hotline Accessible Number and a knowledgeable technical support group that can help you with all your concerns.
So think about it? Will you risk your investments for few thousands of pesos and compromise your peace of mind (CHINA PRODUCTS)? Maybe you will be able to save a few thousands but will it give you the Quality that will last for more than 25-30years?
Your Solar System also adds value to your property, so if you have a high quality Solar System then you can also increase the property value, it's an added benefit from investing to Solar Energy.
The benefits you will get from investing into Solar Energy is not only a way of saving the Environment, it's also a practical and cost-effective solution for Energy Crisis. Invest on Solar System, protect your Investment by choosing Made In Germany Solar Components, Invest on QUALITY.