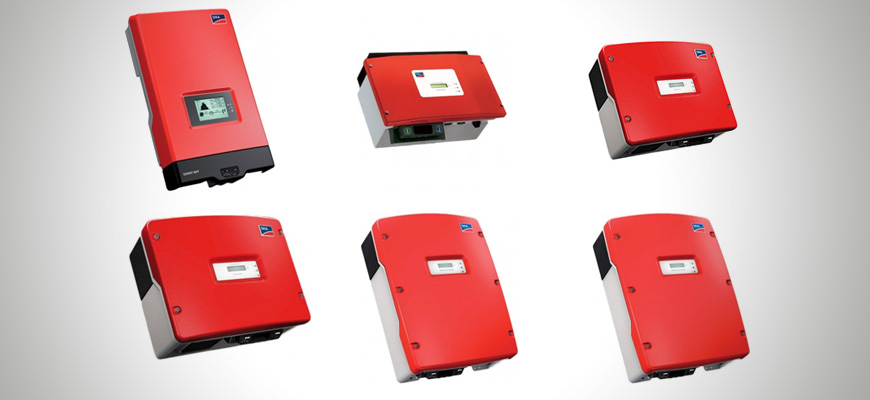 Power Conversion
A solar inverter is an essential component of any photovoltaic system. Photovoltaic modules produce direct current; however, the public supply network is based on alternating current. Therefore, each photovoltaic system requires an inverter in order to convert the direct current into alternating current, so that it can be utilized.

Meister Solar recommends inverters by SMA. Take a look at our product range.
Optimize Performance
In addition to converting direct current into alternating current, a good inverter also fulfills the important function of monitoring and continually optimizing the performance of the solar modules. Through the process of MPP tracking, the solar inverter continually checks the electrical load of a solar cell and adjusts it according to temperature, shading and light intensity, so that the modules are always operated at the maximum power point and thus, the maximum output.
Monitoring Photovoltaic Systems
The inverter monitors the functions of the solar generator, collects and stores all energy yield data and indicates possible malfunctions. At the same time, it monitors the power supply into which it is to be fed. If the prescribed limits for frequency and voltage are exceeded, or in the event of malfunctions or power failures, the solar system is immediately disconnected from the grid.
A Difficult Decision
Choosing the right inverter requires taking many different factors into consideration. In addition to the size of the plant, others aspects such as input voltage range, efficiency, data collection, area of application (indoor or outdoor), etc., as well as customer service, play an important role.
SMA Solar Technology AG has stood for technologically advanced solutions, first-class products and excellent service for many years. Meister Solar is your authorized service center for SMA in the Philippines and offers you just the right SMA products for each and every application.
Service Makes a Difference
With SMA inverters, you are technologically and qualitatively on the leading edge, from simple installation to user-friendliness to perfect service, SMA products will win you over across the board. SMA products include a service package which aims to flexibly and efficiently meet your individual customer requirements. In the unlikely event that a problem should arise with an SMA inverter, you will receive a replacement unit within 72 hours. SMA offers you a high level of security for your investment in photovoltaics.
The best price performance ratio for every application: For small domestic installations, stand-alone grids or large commercial installations, your Meister Solar specialist can get you up to speed with information on SMA products!