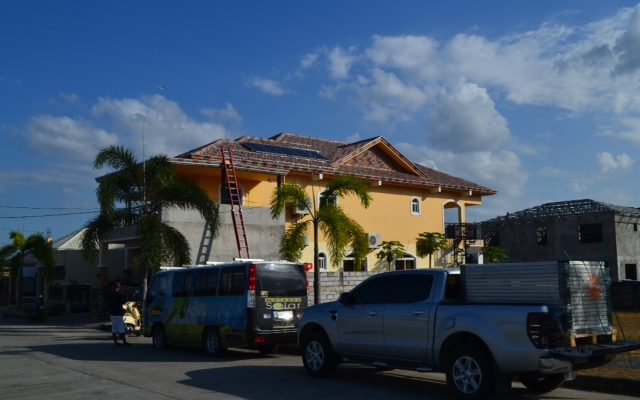 December 2016 / January 2017 – Its been a really busy year for Meister Solar in 2016 and there is more to come in 2017! We can not feature all our projects throughout the Philippines, but here are just a few examples of what we do.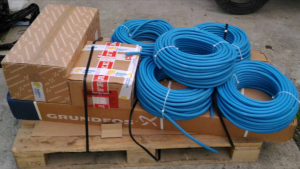 In January we introduced solar powered water pumps to the Philippines. They are the ideal solution for villages, schools, hospitals, small houses, farms and irrigation of greenhouses, game parks and game farms, conservation areas and also private houses. With water pumps powered by solar panels, also called solar subsurface pump system, Meister Solar is bringing an environmentally-friendly water supply solution to the Philippines.
A project in Calamba was typcial for our activities in subdivisions. The beautiful Ayala Greenfield Estates in Calamba is also a location for smart and sustainable energy solutions. Residents their take pride in living green within a lush green environment. There we installed a high quality solar power system of 7,14 kW in that amazing residential area.
In February we were intalling again in Pulu Amsic, a new 24 hectar first class development located in the heart of the residential district of Angeles City close to Clark International Airport. After showcasing their expertise in renewable energy projects with the installation of a 3.5 kilowatt solar energy system with high quality German photovoltaic cells and sma inverter last year, the team then set up a 7.14 kilowatt solar power system. More projects throughout the year followed.
In March we went up North to Cagayan! Among other projects Meister Solar mounted photovoltaic panels on a rooftop in the City of Tuguegarao and implemented a solar power system that will save and make money for our new client.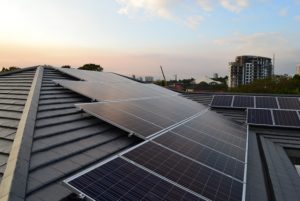 Interesting was also a project in Alabang, where we mounted panels on a ceramic rooftop. This is something only very experienced solar companies manage and Meister Solar is on of the few companies with the in depth know how in this sector in the Philippines.If challenged with complex projects of this kind, the more then 20 years of experience in the solar business of Meister Solar really show: Clean and perfect installation of a new solar system with quality products made in Germany.
And up North again, this time Tuguegarao. There Meister Solar installed another smart solution for private clients: The solar photovoltaic panels will also serve as a car port for farm vehicles! Northern Luzon is made for sustainable energy solutions, wind and solar energy projects are on the rise everywhere.
In April we kicked of with setting up a 3.57 kilowatt solar power system in Bulacan, Santa Rita. The annual production of this solar power system will be around 5000 kilowatt. Based on a current price of 10 peso per kilowatt this means savings of around 50 000 pesos per year. So our client will have a full return on his investment within 6 to 7 years. And because of net metering (selling excess electricity to the national grid) this solar power installation with make additional money to boost the return on investment. Solar energy: Makes multiple times the money then putting it in the bank!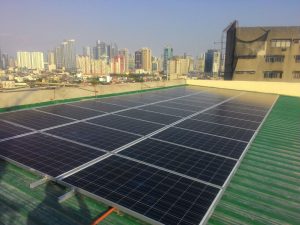 In May we went to the capital Manila. In Malate the view of the Makati skyline was pretty amazing, but our team did not have much time for that. 39 solar panels had to be mounted onto the roof. Altogether these 39 pannels will produce 9.94 kilowatt of solar power, supported by three inverter type 'SMA Sunny Boy 3000'. Of course, all components are high quality solar products Made in Germany, we do not settle for less, reliability and sustainability are what our clients expect from us! So in future, this new office building will get much of its electricity from the power of the sun. And that makes sense because office buildings especially need energy during the day. For example, air conditioning systems will run on overdrive during the hottest hours of the day. But when the sun is shining strong it will also make our solar systems produce more energy! The owners of this office building have done their math and invested accordingly.
May saw also one of the biggest projects of the year: It took Meister Solar only six working days to set up an impressive 40 kw solar farm project in Floridablanca.
In June we introduced new solar products to the Philippines: Stronger photovoltaic cells with 260 kilowatt from the high quality ASTRONERGY ASM6610P series, of course with the quality trade mark you can trust: Made in Germany! And we took part in solar trade shows in Europe to shop for new innovations for our clients in the Philippines.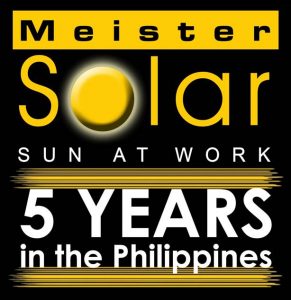 In July we celebrated our 5th birthday! It feels like we just started our solar venture in the Philippines yesterday, so many clients and projects, yet each and every one was special and got our full attention. No wonder: We believe in solar power, we love our work! Before starting in the Philippines we already had a track record of 15 years in Germany: We installed more than 1500 solar projects throughout Europe. In the Philippines we now set up more than 150 solar power systems. But what is impressive is the trend: Each year the number goes up, the sunny Philippines naturally go green and solar! Be sure: We are in for the long run, just as solar power gives you an excellent return on investment for many years to come. And we are your solar partner for service and possible extensions to your solar system. Photovoltaic panels can be addictive: Saving and making money with the power of the sun feels good! Of course, our solar products are 'Made in Germany', they are premium quality, high performance and come with long term warranty. In a nutshell: Meister Solar is German solar know how, efficiency, reliability and quality coming right out of Pampanga in the Philippines.
A typcial project in August: Our smallest solar system was installed in Manila. Many of our clients first think that there is not enough space on their roof to install photovoltaic cells. But let us check first: We look at the location, condition and material of the roof, angle to the sun and possible interference from other buildings as the track of the sun changes not only during the day, but throughout the year. Together with a check of your monthly bill we then will come up with the right proposal. This solar power installation in the 'Project 8 subdivision' in Quezon City in Manila is a good example. For this 3.57 kilowatt private solar power system we found the right position for the solar panels on the roof, although space was limited. What actually is limited now is the monthly electricity bill, congrats!
The rainy season was in full swing in September, but we all know that Philippines is one of the sunniest countries in the world and solar power systems make a lot of sense. And they can be fun, too, as was our project in an entertainment park: Needs (Amusement Park in Pampanga). Be sure: The smiles will get even bigger when the photovoltaic panels on the roof will start producing clean and renewable energy and bringing down the electricity bill every day! Nice little detail of this project: The client can monitor his solar power system online with the Sunny Webbox from SMA Solar Technology!

Also in September Meister Solar introduced Schletter mounting systems to the Philippines. The intelligent solar mounting systems from Schletter GmbH are often called the 'Mercedes' of the segment. And Meister solar introduces these innovative systems now to the Philippines. Schletter offers a variety of fasteners for photovoltaic modules. The systems combine optimum structural dimensioning, short mounting times, economic efficiency and maximum durability, all at attractive prices. All systems are produced exclusively in Kirchdorf/Haag in Upper Bavaria, Germany. The Schletter PV-mounting system is a modular-unit assembly system comprising universally applicable, quality components (aluminum / stainless steel), facilitating the installation of any module on almost any site. The system, already comprising components proven for quality over many years, is subject to continuous improvement through the enhancement of existing elements and the development of new products.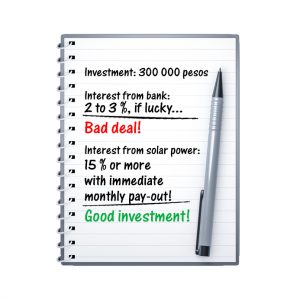 In October we explained in Detail how you can save and make money with solar energy: 15 % INTEREST AND IMMEDIATE MONTHLY PAY-OUT – Read the story again and you will not doubt: In a sunny country like the Philippines solar power systems are one of the best investments out there. You have more money in the pocket and also help the environment by going green.
Back in Pulu Amsic in November: This was already our 9th project in this subdivision, Pulu Amsic is one of the top solar subdivisions of the Philippines. Also, because clients here very often go all the way and invest in solar all out. This 3.6 kilowatt solar power system is joined by a warm water solar system for the house of a family with four members. This client will save around 60 000 pesos a year with the photovoltaic cells on his rooftop and another 36 000 pesos with the warm water solar system for the house.So altogether he is saving 96 000 pesos a year, after investing only 355 000 pesos for both systems. Any further questions? Maybe, then you are welcome to talk to us! But one answer is as clear as the deal with any bank is lousy: Solar energy is the best investment out there!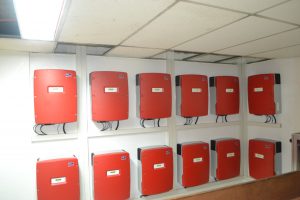 The big highlight came at the End of the year. In December Meister Solar finished the big AFPMBAI solar project on time! This close to 100 kilowatt solar project for the Armed Forces and Police Mutual Benefit Association Inc. (AFPMBAI) was a real challenge as it had to be finished before Christmas. We were honored and proud that AFPMBAI believed in Meister Solar. And together with the support of the great and excellent people at AFPMBAI we delivered. The new solar system is ready to run, final handover will be in January 2017!
So get ready for more solar success stories with Meister Solar in the Philippines in 2017!