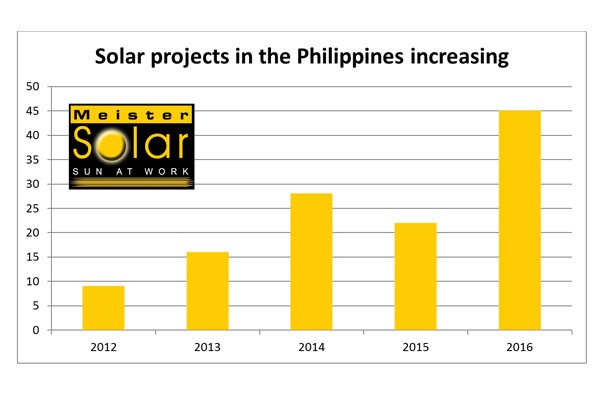 April 2016 – Solar energy systems in the Philippines used to be something for rich people and mostly foreigners. But times change and so do the Philippines.
What a difference a few years make: If you drive through modern subdivisions of Luzon today, you will see solar power installations on many roofs.
The people who installed these innovative systems are no "funny" people, they are right in the center of a process in the new and emerging middle class of the Philippines. People earn good money and ask: What technologies can we invest in and how can we use energy more smart and efficient. Filipinos install photovoltaic cells on their roofs, put inverters in their houses. Then they save and make money with the power of the sun.
Yes, using the sun to produce electricity is also good for the environment. But only a few people will try to save the planet and go bankrupt at the same time.
What made solar power such a big success in the Philippines in the last years is the fact, that this technology is the best investment out there right now! Solar power projects save and make money for private investors day by day. Putting money in the bank is like burning it in a bonfire.
The trend to go solar is visible in the number of projects Meister Solar has set up in the last years (see chart). The chart goes up, the slight dent in 2015 is off set by an even stronger growth in the solar sector in 2016.
The government has done its part to support the trend with the right decisions and legal framework. And open minded and innovative electricity companies like Meralco have been coming in from the corporate side. The pioneers of net metering now how to invest in the future. By supporting the development of sustainable energy projects they make their own business sustainable. It is a statement against the "grab and run" mentality.
The Philippines have become a true sunshine state. The sun itself has always been there. But it is the private investors and clients, innovate companies and brave government institutions who now created the solar boom in the country!